Japanese food has always distressed me. It seems that most people cannot understand my lack of interest in sushi. "But you haven't tried good sushi" they would splutter and cry at me as I shrugged my shoulders and admitted my indifference to most of it. "Not all sushi is raw fish" they claimed thinking that was my problem with it (it isn't). Its small, expensive, cold and not for me. I was also reminded rather patronisingly that not all Japanese food is sushi. I am fully aware that an entire island of people are not surviving on raw tuna, rice and dried seaweed but you can't escape the know it all attitude of some Japanophiles. I had decided that my first proper foray into trying Japanese food wouldn't be racking up a £40 bill in YO! Sushi and I had enough chicken katsu bento boxes to know that I like the premise of a lot of dishes, I just needed to either save and go to a great place or wait for a pop-up that was run by people that know what they were doing.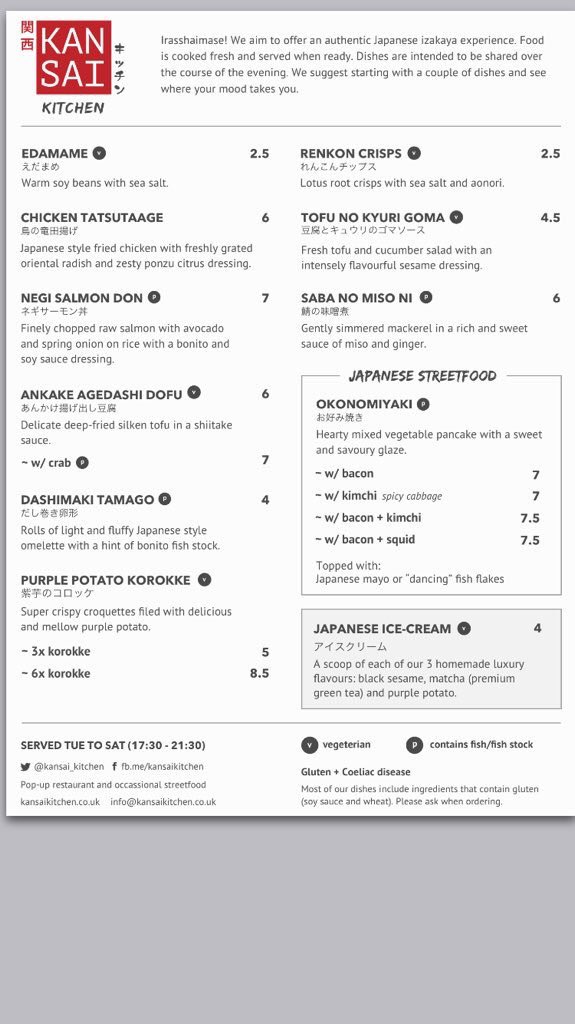 Kansai kitchen answered my prayers.
The Hillgrove have been running a pop up kitchen for a while now turning over once every two to three weeks. I had heard many good things about Kansai Kitchen and a look on the website put any fears at rest that these were just two guys playing at it. A friend and I headed up determined to try most of the menu. I am not one for small plates, Tilly who helps to organise the pop ups gently took the piss after she had heard a few rants from me about what a rip off exercise some places employ when they offer small plates in lieu of a proper meal but in this instance it worked out very well.
We decided to start with some renkon crisps which I had had before and they were great, thin, crispy, well seasoned with dried seaweed and salt.
The Chicken Tatsutaage, Japanese fried chicken with radish and citrus dressing, was delicious and between two of us there was a a generous portion of nugget sized chunks and fresh spring onion.
The Ankake Agedashi Dofu was a revelation! I had never done tofu properly, often picking it out of things as I hated the spongy texture. This dish was made with silky tofu, deep fried and served in a slightly gelatinous mushroom stock. It was beautiful (if hotter than the fire of a thousand suns!). The stock was salty, earthy and sweet and the tofu was like a fried marshmallow that sucked up the flavours of the broth. Id have this again and again.
We ordered 6 Purple Potato Korokke, to share (choice was 3 or 6) and i felt at £8.50 this was a bit steep. However the potato coquettes had a smooth potato filling, great crisp exterior and we enjoyed the tangy sauce they came with along with the refreshing radish on the side. Another bonus would have been perhaps some sauce on the side for dipping but a minor thing.
We were both very keen to try the Okonomiyaki which is a bit like Japanese bubble and squeak. I had seen the Hairy Bikers make one on the telly and wanted to try it before making one at home. It was huge! Would definitely be good as a main if you didn't want to spend what we did. We asked for kimchi and bacon with ours and elected for both mayo, sauce and bonito flakes. It was very satisfying and we thoroughly enjoyed it. Scroll to the end for a video of the dancing fish flakes, i did do a Vine but it was rubbish.
We finished with off with the ice cream, a scoop each of macha green tea and black sesame. The ice cream was soft, smooth and strongly flavoured but incredibly good. We both really liked the black sesame, tasting both "burnt" and sweet.
In all we spent about £20 each on a very satisfying shared meal and definitely over ate! We got to chat to one half of the team for ages which you just wouldn't get in most restaurants, something i really like about the pop up culture right now. For someone like me who wanted to try something new without having to commit to one dish this was perfect and i highly recommend looking out for these guys when they head to The Hare on the Hill right next door to the Hillgrove.